Weather radar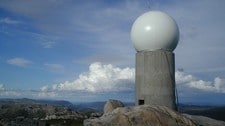 The weather radar shows where there is precipitation (rain, snow and sleet) right now. The radar images update every 15 minutes. The color indicate the intensity of the precipitation. The Norwegian radar infrastructure is expanding and does not yet cover the whole country.
Read more about weather radars here.
Questions about the weather radar and observations
Do you have questions about the weather radar or other observations? Send us an e-mail here:
Questions about radar and observations
.